TEACHING PHILOSOPHY and BACKGROUND
Studio Motto:
Technique frees you to have fun!
---
I specialize in teaching both singing and acting, seamlessly connecting the song and the person to create the complete performer. Vocal training starts with body alignment (incorporating Alexander and Feldenkrais exercises), breath management, and individually designed vocal exercises. Acting technique includes relaxation, concentration and emotional connection to material using substitution and sense memory; song and script analysis to find the intrinsic meaning; and refining ways to communicate it. The goal is freedom of artistic expression through the healthy use of body, breath and voice. I believe that there is one voice from top to bottom in any style. The artistry is in the way you use it!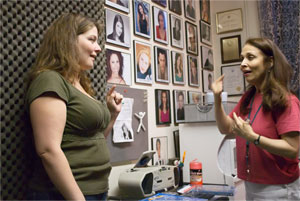 Artistic development is an ongoing process. I continue to study and perform to this day, so my teaching remains informed and current. As a singer with a three-and-a-half octave range, I was always known for dramatic expressiveness and a singing voice which has been described as both sparkling and lustrous. My stage presence and ability to communicate in performance has been honed over many years of experience and study. I loved performing BOTH musical theater and classical repertoire and never wanted to choose between them — that's why I teach both!
As a performer, I have been featured with professional companies across various disciplines, including opera, theater, musical theater, and cabaret. I was fortunate to have studied and/or apprenticed with some of the finest and most well-known teachers and directors of our time, including Phil Hall (Voice Teacher/Musical Coach); Lee Strasberg, Ed Kovens, Irma Sandrey, E. Katherine Kerr, Herbert Berghof (Acting); Wesley Balk and August Everding (Opera Direction); Robert Abramson (Dalcroze); Dr. Linda M. Carroll, CCC-SLP (Vocology); Richard Gordon (Bodywork/vocal coach). Classically trained as a lyric coloratura soprano with diction skills in Italian, French, German, Spanish, Russian and Hebrew, I am also proud to be a musical theater crossover singer with a strong soprano mixed belt. Method acting, which I've studied and taught for many years, is the core of my approach to integrated singing and acting in performance, because it establishes a character's point of view and makes an individual connection from the actor to the character.
---